I didn't expect this story. The synopsis, while states the characters and what/who they are, isn't very accurate.
And then…. I loved it!
** Signet Publishing provided a copy for review vial NetGalley
The Lunds are a close knit family. They're loving and very much connected to each other. They care and they're ambitious. They grew up privileged and sheltered. Or at least the latter is true for Brady. Until prom.
Lennox Greene's life hasn't been sunshine and roses. Mostly cheep lighting and thorns. But she survived her rough childhood and had risen to be ambitious and driven. A truly confident woman.
When Brady sees Lennox at work, where he's CFO and she's a floater; working whatever department in the company she is needed. You can imagine how the scene plays when a high management is never wandering around the various departments halls, and then it seems like that gorgeous CFO is popping up everywhere.
Brady and Lennox's relationship escalates pretty fast when he spots her in a neighborhood bar, and later when he arrives as a volunteer with her roommate's after hours program. Lennox agrees to help Brady "change" and become a little more relaxed, take care of himself better instead of spending 80 hours a week at work, and start doing things for his 'self.'
As their time spent together is progressing, they genuinely grow to like each other. Brady's getting to know her and falls in love with her spirit and confidence. Lennox is falling for his nerdy, determined and protective nature. And then she meets his family. His very, very wealthy family.
What I enjoyed about this, except for the way James' writing sucks you in, is the flow of the story. The way the plot progresses and their relationship right along with it.
What You Need is a beautiful romance between the gorgeous, closed off, nerdy CFO and the lower level temp. It's a great starter for another swoony contemporary series, and I can't wait for the next title.
5 Stars
~Eleanor
Amazon ~ B&N ~ Kobo ~ iTunes ~ IndieBound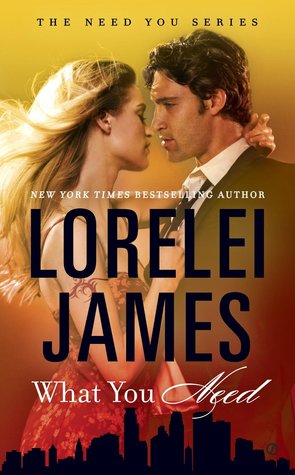 New York Times bestseller Lorelei James introduces a new family for readers to fall in love with in the Need You series. The Lund name is synonymous with wealth and power in Minneapolis-St. Paul. But the four Lund siblings will each discover true love takes a course of its own…
As the CFO of Lund Industries, Brady Lund is the poster child for responsibility. But eighty hour work weeks leave him little time for a life outside his corner office. His brothers stage an intervention and drag him to a seedy night club…where he sees her, the buttoned up blonde from the secretarial pool who's starred in his fantasies for months.
Lennox Greene is a woman with a rebellious past—which she carefully conceals beneath her conservative clothes. She knows flirting with her sexy, but aloof boss during working hours is a bad idea. So when Brady shows up at her favorite dive bar, sans his usual snappy suit, and catches her cutting loose, she throws caution aside and dares him to do the same.
After sparks fly, Brady finds keeping his hands off Lennox during office hours is harder than expected. While she makes him feel alive for the first time in years, a part of him wonders if she's just using him to get ahead. And Lennox must figure out if Brady wants her for the accomplished woman she is—or the bad girl she was.
Lorelei James is the New York Times and USA Today Bestselling Author of contemporary erotic western romances set in the modern day Wild West and also contemporary erotic romances.
Lorelei's books have been nominated for and won the Romantic Times Reviewer's choice Award, as well as the CAPA Award. Lorelei lives in western South Dakota with her family…and a whole closet full of cow girl boots.
Facebook ~ Twitter ~ Goodreads ~ Instagram ~ Pinterest ~ eMail