Loveswept know me. They know I'm a hopeless contemporary romance reader and so I ended up with an advance copy of The Best of Me by Elizabeth Barrett.
Thanks NetGalley and Loveswept 🙂
Jane Pringle was introduced in the first book of the Return to Briarwood series by Barrett. I read it as I was getting ready to read this TBoM. It was a good read, but I had some issues with it, mainly the major part the sub-plots played in it. They were just too… main.
However, now I'm glad I had all the preparation, as Jane's character is kind of complex. Poor woman has had a rough patch in life. She's been raising her 7 year old by herself, divorced from an abusive husband and struggling financially. So now that said ex-a$$hole had her apartment building and place of work sold, she works for Briarwood as an assistant pasty chef. A promising one.
An independent woman that has gone through all Jane had can be dangerous. Take for example Preston North, a silent(ish) partner in Briarwood. He tried helping her when she was nearly ran over and ended up with a concussion when she beat him half to death. Still, though, they boy is enamored. How cute is that? Press has his own demons to deal with and that he does.
What I loved about how their romance began was Jane hesitance. It was so clear she felt something and really wanted to do something for herself, yet so afraid of so much, that she limited their meetings and kept refusing dinner. This just led to Press breaking down the walls protecting her heart, her sense of security and her realizing life is more than living in hiding.
There are many things coming into play in this book, and Barrett is weaving them into the main story beautifully. There's a very strong sense of family in this story and at times it seems like all the characters are trying to make Jane feel it.
No one is without fault, and it's beautifully expressed in the writing of these characters.
Romantic and enjoyable read.
4 Stars
~Eleanor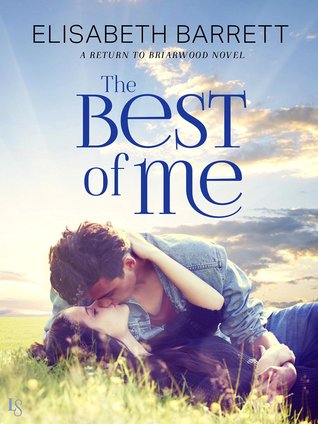 In the follow-up to Once and Again—hailed by bestselling author Claudia Connor as "a beautiful second-chance love story"—Elisabeth Barrett returns to the Briarwood, an unforgettable place where legacy and longing make dreams come true.
Jane Pringle never meant to fall for her boss. After landing a job as a pastry chef at the exclusive Briarwood Golf and Yacht Club in Eastbridge, Connecticut, she just wants to keep her son in a good school district and find some peace and quiet, far away from her manipulative ex-husband. But when Briarwood's charismatic co-owner takes an interest in her, Jane's best-laid plans go awry . . . in the sweetest way possible.
Rich and handsome, the grandson of one of the most powerful men in New York City, Preston North hasn't lived quite the charmed life everyone believes. His family taught him everything he needs to know about betrayal—and Press wants no more of it. What he wants is Jane. The gorgeous single mom is selfless and kind, plus she's got a backbone. To win her trust, Press just needs to shake off his playboy reputation.
They've each been burned in the past. But now Press and Jane will have to choose between letting their fears get the best of them . . . or breaking free and following their hearts.
Available January 6th: Amazon Kindle ~ Barnes & Noble ~ Kobo
Elisabeth Barrett lives in the San Francisco Bay Area and spends her days teaching, editing, writing sexy contemporary romance, and enjoying time with her sometimes-bearded husband and three spirited children. She is constantly perfecting her home-work-writing juggling act, but in her free time she loves to hike open space preserves, grow orchids, bake sweet things her husband won't eat, and sing in grand choruses.
To find out more about Elisabeth and her books, please sign up for her newsletter or visit her at her website, on Twitter, or on Facebook.