I'm starting to realize there's little Jill Shalvis would write that I won't absolutely love.
My thanks to Grand Central Publishing via NetGalley for a copy of this book.
Cedar Ridge is her new series, and My Kind of Wonderful is the second novel. In the first one we got to love on Aiden Kincaid as he found his forever with Lily. But this time around we're full on crushing on Hudson Kincaid (Hud), who's half of a twin set. His brother Jacob has left Cedar Ridge at 18 and never looked back. Hudson is left with his part of the resort, familial responsibilities, his job as a cop, heading the resort's security team and a lot of guilt. To say he's got his plate full is an understatement.
Bailey (love!!!! the name) has had it hard in the past. At just 24 years old she's been fighting cancer for the past 10 years. Now, cancer free for a few months, she's starting to see the light to her future, and she's adamant on embarking on a new journey – checking stuff off her list.
Her first item is skiing in the Rocky mountains and that's what gets her to Cedar Ridge. Well, that and a request for a huge mural at the ski resort.
Hud's first glance at Bailey has him hooked. To what? He doesn't know. Then they meet again, and then again and he's slowly growing more and more fascinated.
Bailey's reaction to Hudson is immediate. She's curious and very attracted to him. Now that she's grabbing life by the horns, she's all in for a one night stand. One that turns into a two and then a three nights stand. And you get the picture: they spend time together, grow more and more infatuated with each other, one is all in, one is in denial… yada yada.
You'd also expect the twist in the plot, the peak, where the drama begins. But it's not where you'd expect it to be.
Hudson's family, and especially the sisters in law are wonderful in pushing his buttons while still supporting him. And they basically encourage him to make the right decision. And even that backfires, because Shalvis is just awesome that way.
This book is a wonderful read, light, some drama that will make you want to know what's next, some sexy times, and a lot of fun with the characters. So I'm just going to keep on loving on all of Shalvis's books, because they're worth it.
So I'm thinking… 5 Stars
~Eleanor
Amazon ~ B&N ~ Kobo ~ iTunes ~ IndieBound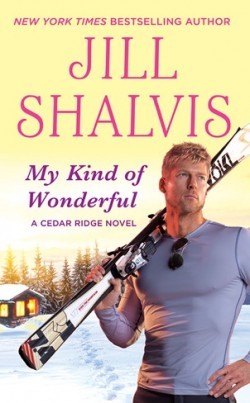 UNEXPECTED AND UNDENIABLE…
Bailey Moore has an agenda: skiing in the Rockies, exploring castles in Europe, ballroom dancing in Argentina. Now that she has a second lease on life, she's determined not to miss a thing. What she doesn't realize is that item #1 comes with a six-foot-one ski god hot enough to melt a polar ice cap. She doesn't want to miss out on him either, but Hudson Kincaid isn't the type of guy to love and let go. And as gorgeous as Cedar Ridge is, she's not planning to stick around.
As head of ski patrol at his family's resort, Hud thinks he's seen it all. But never has he run into someone like Bailey. She might look delicate, but her attitude is all firecracker. And her infectious joy touches something deep within him that he's been missing far too long. Now he'll just have to convince Bailey to take a chance on her biggest adventure yet . . . something rare and all kinds of wonderful.