I've read a lot of Rebecca Grace Allen's work, so I don't know why I keep being surprised at how good her stories are.
I was provided with His Contract, her first in the Legally Bound series, and apparently one of the first novels she wrote (only not first to get published) and am delighted to share my review.
Richard Livingston captured with his pencil this beautiful image:
He called it Still. 
When I saw this sketch I immediately thought of this book.
His Contract is about what BDSM really is. It articulates the difference between hurt and harm. It shows how one love can live alongside another. It's a beautiful, heartbreaking and heartwarming love story.
Lily Sterling is a young paralegal in Boston, getting a fresh start where her brother now lives with his husband. Lily has suffered an emotional trauma by the hand of her Dom; she was used by him in the most degrading way, and discarded as an afterthought. Her suffering resulted in her not taking the Bar exam when she graduated. She also vowed to never put herself in the same position again.
Jack Archer is a Harvard Law Professor. He's a widower who is still very much in love with his wife, and more than a year past her passing, he's still grieving. When his best friend twists his arm for a night out, he first sees beautiful Lily.
You know there's courtroom drama and all the good stuff that go along an emotional literary ride, but the story is revolving Jack's offer Lily a few hours of play, under contract that will protect her, only to have them both want more. They extend the contract and as they keep playing, they (naturally) get attached in a way neither expected. Lily feels safe and protected with him and so his mentoring her in the true ways of consensual BDSM begin.
The instantaneous connection between Lily's submissive self and Jack's dominant persona upon first meeting each other is incredible. It jumps off the page and is nothing short of mesmerizing to read. Jack's 15 years experience in the lifestyle, his charisma and intellect just clicks with Lily's need for submission.
I loved how Jack slowly broke down Lily's inhibitions and showed her what BDSM really is. I loved how tender and responsible he was with her. I loved how Lily immediately realized what Jack's emotional state was and how far she could push, and when she couldn't avoid pushing him one final time, for what she wanted.
Both Lily and Jack are strong characters, despite their flaws and inhibitions, despite their past. They're both strong because they don't use their past to dictate the way they treat the people around them when struggling their way out of that past.
The story is enhanced by their amazing group of friends, who all want Lily to come out of her shell and thrive in her new life, and Jack to heal and realize there's life even after his great loss. I especially loved Patrick and Cassie and hope their story is next.
I can definitely say that if you're inclined to read erotic, very sexy, very well written BDSM style novels, His Contract is a 1-click you don't want to miss.
My rating: 5 stars
~Eleanor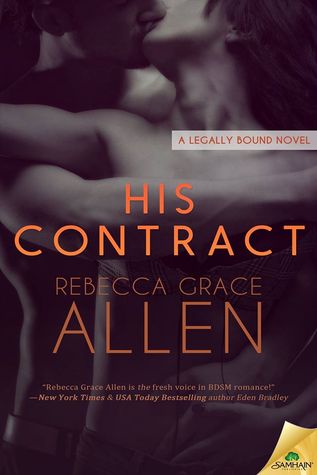 Lawyers know when to play by the rules…and when to break them.
Legally Bound, Book 1
Harvard law professor Jack Archer once balanced his professional life with the private world of dominance, surrender and trust he shared with his wife. Since cancer stole her a year ago, finding love again—her final wish for him—is the furthest thing from his mind.
From his empty house to the classroom, grief follows his every move. Until he meets a young woman with shadows in her eyes even darker than his own.
Once a shining star at law school, Lilly Sterling's dreams died when the Dom she trusted left her heartbroken and lost. She's starting fresh in a new city as a paralegal, but meeting Jack reawakens all her old demons—and her lingering desires.
Jack offers to become Lilly's mentor for both the courtroom and the playroom, but tells himself it's not a relationship. Their carefully worded agreement guarantees that. But when their trial agreement starts heating up, both Jack and Lilly must decide what will tip the scales: the letter of the law…or love?
Warning: All rise for a book that contains a wounded submissive and a Dominant who wants to retrain her while retaining control of his heart. Discovery phase may involve spankings, bondage, edging, and blindfolds. Is it hot? You be the judge.
Amazon Kindle ~ Barnes & Noble ~ Kobo ~ iBooks