Talk about a complete 180 from the first book in the series. Strong enough was, for lack of a better word, a rollercoaster compared to this installment. Jasper's story was packed with action, with tension, with dread.
This one, well… this one is packed with Rogan.
Katie Rydale is a beautiful makeup artist working on a studio set for a successful TV series. Following a traumatic accident, she lives her life under the radar, trying to blend in and not draw attention to her scars. Timid and shy, she's very different from her previous life's outgoing and happy personality.
A brother in arms to Jasper and one in their special ops team trying to figure out who's trying to get rid of them all, Kiefer Rogan is a gifted MMA fighter. As with many celebrities, he is given acting gigs, seeing as he is gorgeous, strong and reportedly a manwhore.
When Rogan shows up in Katie's office for his early morning shoot, he overhears Katie and her best friend, Mona, discuss him. He also overhears Mona gushing about him while Katie dismissing him as just another pompous, self absorbed and flaky man. She's clearly not impressed. Which is what makes Rogan decide he's going to change her mind. Especially when he sees her.
Rogan works hard at convincing Katie she's wrong about him, while Katie works hard at maintaining her distance. But as with all situations like this one – one side wears out at some point. And Katie is it. Her carefully erect walls are crumbling slowly as her attachment to Rogan grows.
This is a lovely love story where two individuals with past wounds find solace in each other. They reveal their true selves to one another and don't hide much, which is not common and I love that about M. Leighton. She gives you the predictable in an unpredictable way.
It's when everything seems perfect, though, that's when things fall apart. And when demons from Katie's past present themselves in Rogan's life – she dies a second time and runs. She needs to pick up the pieces yet again, and she can't do it with Rogan in her life.
An interesting turn of events occurs when her past catches up to her and she must decide how to handle this new hand. Keep to herself and ignore it, only to ensure Rogan's life would be forever ruined, or face her fears and take the small chance she can save him.
There is very little action in this story but there's a lot of romance and a lot of falling in love. Rogan is wonderful and fierce and when he loves, he loves completely.
I read the story in one sitting, and loved it – even more than I did Strong Enough.
There's some closure in this story which makes me incredibly curious about the next installment. I'm also hoping the next installment involves Mona somehow, because she's absolutely awesome.
4.5 Stars
~Eleanor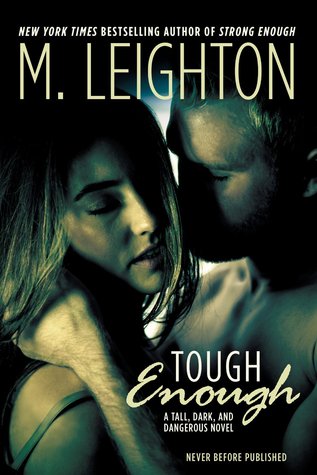 From the author of the New York Times bestselling Bad Boys novels comes the second book in a dark, sexy contemporary trilogy.
He's a fighter who never loses, but is he tough enough to win her heart?
There was a time when I had everything–a wonderful family, a bright future. Love. But all that was taken away in a single night, torn from me like flesh from bone. Since then, I've hidden away in my second-choice job as a makeup artist. But I prefer it that way, actually. I'm comfortable inthe shadows, where no one can see my scars.
Kiefer Rogan literally took my breath away the moment I met him. MMA champion-turned-actor, notorious playboy, charming to a fault—he's everything I vowed to avoid.
But he just wouldn't stop until I opened up and let him in. Maybe I should've tried harder to resist him. Maybe I shouldn't have fallen in love with him. Because I, of all people, know that everyone has secrets. Scars. And that they're usually ugly and painful and destructive to the people we love most.
I just never guessed that they could be deadly, too.
Amazon Kindle ~ Barnes & Noble ~ Kobo ~ iBooks
New York Times and USA Today bestselling author M. Leighton is a native of Ohio. She relocated to the warmer climates of the South, where she can be near the water all summer and miss the snow all winter. Possessed of an overactive imagination from early in her childhood, Michelle finally found an acceptable outlet for her fantastical visions: literary fiction. Having written over a dozen novels, these days Michelle enjoys letting her mind wander to more romantic settings with sexy Southern guys, much like the one she married and the ones you'll find in her latest books. When her thoughts aren't roaming in that direction, she'll be riding horses, swimming in ponds and experiencing life on a ranch, all without leaving the cozy comfort of her office.
Facebook ~ Twitter ~ Website ~ Newsletter ~ Goodreads