They say, Show Me Your Friends and I'll Tell You Who You Are. Well, if considering Amanda Weaver my friends reflects on me – I'm golden!!
I'm so proud to support Amanda as she's making it as an author. And a damn good one, if you trust my reviews.
When I lived in NYC I loved visiting the old, private owned bookstores. There's a charm to those. The smells, the care each title receives, the little nooks only the owners and employees know, the personal touch. Don't get me wrong, Barnes & Noble is one of the chains I still enjoy and basically drown in, but still – there's nothing like the old niche stores. A store just like those is the setting for this romance.
Ben works in such a store. He knows it upside down, he loves it, he's passionate about it. Ben is this nerdy, bookish twenty something young man who's striving to please his own desires but to appease his family. You will never guess to his background just by looking at him.
Hannah is the exact opposite. She's known what she wanted to do her whole life, and has been working towards it. She's loved and it shows, she's driven and she is, in a way, a conformist. And then she stumbles into Ben's bookstore.
Hannah falling for Ben is plain and obvious from the very beginning. Weaver wrote her fascination with him and the way she reacts to his passion for books. Ben's reactions to Hannah are very mixed and it carries clear throughout the pages of the story. He's interested in her in a way that reminded me of trying to solve a puzzle, working the way straight to the solution and still not seeing it when it pretty much slaps you in the face.
But when Ben falls, he FALLS! And the buildup to their relationship is the sweetest, most subtly erotic thing. It's innocent and borderline mischievous, and I loved every word.
As Ben and Hannah are falling in love, their futures are falling apart. And dealing with the repercussions is proving to be challenging for them both, but in totally different ways.
I can't say the plot isn't predictable, and the story is not the most original thing in the world. But the beauty of this story is Weaver taking it and creating it around a special setting, with special circumstances, with the best supporting characters.
Reading a friend's story is always something you might not want to do – but I'm 100000% happy that I've read this one, and I can't wait for more from Amanda.
My rating: 5 Stars
~Eleanor
** Thanks Amanda for this ARC in exchange for my honest review.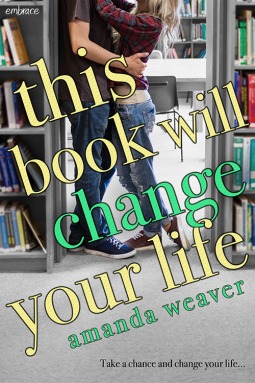 Take a chance and change your life…
College was supposed to be where Hannah's hard work paid off, but the major in honors chemistry she's been working towards since childhood is slipping away. Worse, she's not sure she wants it anymore. Salvation comes from an unlikely place—a used bookstore and Ben, the passionate college senior who works there.
Ben's trapped in a life mapped out for him. Trapped in a future career as a lawyer to make his father happy. Trapped pursuing a girl he doesn't even like because she fits into a world he doesn't want, but can't escape. But then he meets Hannah. And for the first time, he knows what it means to truly want something.
So he gives in to being her friend. Then to wanting her. Then to kissing her. And within the freedom of his impulsivity, both of their carefully planned lives begin to fall apart…
Amazon ~ Barnes and Noble ~ Kobo ~ iBooks
Amanda has loved romance since she read that very first Kathleen E. Woodiwiss novel at fifteen. After a long detour into a career as a costume designer in theatre, she's found her way back to romance, this time as a writer.
A native Floridian, Amanda transplanted to New York City many years ago and now considers Brooklyn home, along with her husband, daughter, two cats, and nowhere near enough space.
Website ~ Amazon Author Page ~ Goodreads ~ Twitter ~ Facebook