Such a fun book (series!!) to dive into. You won't regret picking this one up.
Also… the cover. OMG!
How can I express how much I loved this book? I'm not normally an MC fanatic. Yes, I enjoyed Sons of Anarchy. Yes, I read an MC fantasy series. But there's something special about Kristen Ashley's writing of the Chaos boys that just makes me swoon to no end.
The book's prologue ripped my heart out. One of the best book opening prologues I've read, and one that left me wanting nothing more than learning how the two high school kids got their HEA.
Then we pick up about 8 years later. When both Carson Steele and Carissa Teodoro are totally different from the kids they used to be. And yet very much the same.
Carissa is divorced and being ran rugged by her ex-husband, battling for custody of their six month old son. Carson is part of the MC he's longed to be a part of since he was a teen. He has found a family in Chaos he'd never had before.
A chance meeting with Carissa brings them together in a way that completes each other's lives. Carson, now going by the road name of Joker, is drowning in Carissa's attention and attraction. Joker is such an incredible character. Smart, talented, lives by his own rules and desires, loyal to a boot and compassionate beyond words.
Carissa is picking herself back up after being shattered by Aaron, her high-school boyfriend and ex-husband, who's dragging her through court trying to do everything he can to take her baby away. She is forced to work a low level job, live in a crappy apartment and struggle daily. But she's doing all she can to make a good life for her boy. Joker and his Chaos family adopt her as one of their own and her life changes a complete 180 degrees.
Of course, the rest of the Chaos characters we know from the previous two titles are so much fun to meet again. Not to mention the hys-terical old ladies, meaning the bikers' wives. This is one of those stories where the supporting characters do exactly what they're meant to – while the MCs carry the story, the supporting characters make them all float forward.
Their growing love, the family they build, everything going on with the club and the turf war, Joker's mission to give back to everyone that's been there for him, it all makes for a fantastic read.
Highly recommended!!
My rating: 5 Stars
~Eleanor
* I was provided a copy of Ride Steady by the publisher via NetGalley in exchange for my honest review
Amazon ~ Barnes & Noble ~ Kobo ~ iTunes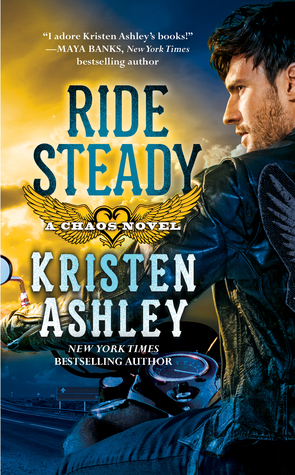 The ride of her life . . .
Once upon a time, Carissa Teodoro believed in happy endings. Money, marriage, motherhood: everything came easy—until she woke up to the ugly truth about her Prince Charming. Now a struggling, single mom and stranded by a flat tire, Carissa's pondering her mistakes when a vaguely familiar knight rides to her rescue on a ton of horsepower.
Climb on and hold tight . . .
In high school, Carson Steele was a bad boy loner who put Carissa on a pedestal where she stayed far beyond his reach. Today, he's the hard-bodied biker known only as Joker, and from the way Carissa's acting, it's clear she's falling fast. While catching her is irresistible, knowing what to do with her is a different story. A good girl like Carissa is the least likely fit with the Chaos Motorcycle Club. Too bad holding back is so damned hard. Now, as Joker's secrets are revealed and an outside threat endangers the club, Joker must decide whether to ride steady with Carissa—or ride away forever . . .