I swear I can never (and will never) get enough of these books. My virtual romantic life can happily exist in Sunshine forever.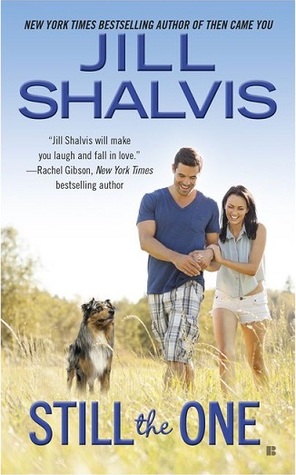 Darcy Stone is game for anything — except sexy Navy veteran and physical therapist A.J. Colten, the guy who'd rejected her when she'd needed him most. Now the shoe is on the other foot and he needs her to play nice and help him secure grants for his patients. Unfortunately, Darcy can't refuse. She needs the money to fund her passion project: rescuing S&R dogs and placing them with emotionally wounded soldiers.
A.J. admits it — Darcy is irresistible. But he's already been battle-scarred by a strong-willed, vivacious, adventurous woman like Darcy, and he's not making the same mistake twice—until he and Darcy are forced to fake a relationship. Growing closer than they'd ever imagined possible, Darcy and AJ have to ask themselves: how much between them is pretend? What's the real thing? And where does it go from here?
Amazon ** Barnes & Noble ** iTunes

I bet most reviews will focus on A.J. and how amazingly swoony he is. And he IS! But I just love Darcy Stone. Her strong vulnerability and determination is wonderful and is practically jumping off the page.
A reader might think A.J. has some sort of a hero complex but isn't really aware of it – and that's the best kind. He's driven by strong emotions and genuine desire to help people. He's fantastic, and strong and everything I said about him so far is channeled into his passion for Darcy.
Their relationship arc is beautiful. It's real. I can't think of a romance of this type progressing any different.
I can't put my finger on exactly what it is that bothered me enough to not give it the maximum rating, but regardless, this is a great read. Standalone, but recommended in order of the series. And hey, reading the Animal Magnetism books isn't going to be a hardship. Promise.
My rating: 
* Thank you Jill Shalvis, Penguin Group and NetGalley for this early review copy in exchange for an honest review.
New York Times bestselling authorJillShalvis lives in a small town in the Sierras with her family and far too many assorted quirky characters. Any resemblance to the quirky characters in her books is, um, mostly coincidental.Look for Jill's latest, ONCE IN A LIFETIME, on shelves andereaders now, and get all her bestselling, award-winning books wherever romances are sold. Also, visit her website for a complete book list and daily blog detailing her city-girl-living-in-the-mountains adventures.Connect with Jill on Facebook: 
http://facebook.com/JillShalvis