A story of heartbreak, loss, redemption and second chances: Pocketful of Sand from New York Times bestselling author M. Leighton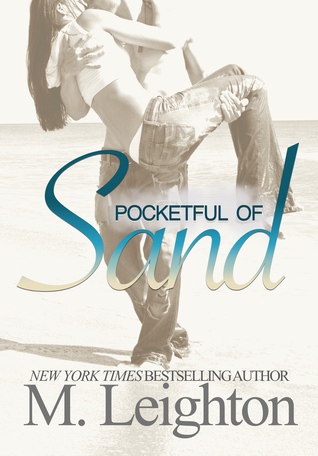 "She's beauty for my ashes. And I'm hope for her heartache."—Cole Danzer.
I don't know what makes a great love story. Is it that instant attraction when boy meets girl? The passionate kisses and the fairy-tale ending? Or is it a lifetime of tragedy, paid in advance, for a few stolen moments of pure bliss? The pain and the suffering that, in the end, you can say are worth it for having found the missing piece of your soul?
The answer is: I don't know. I don't know what makes a great love story. I only know what makes my love story. I only know that finding Cole when I did, when Emmy and I were running from a nightmare, was the only thing that saved me. That saved us. He was more broken than I was, but somehow we took each other's shattered pieces and made a whole. If that is what makes a great love story, if that is what makes an epic romance, then mine…ours is the greatest of them all.
Contains material that some may find disturbing. Not intended for readers under the age of 18.

There's also a book trailer… *swoons*
I. Am. Astonished.
Ok, I'm not really, because I do know M. Leighton's writing. But I can promise you this: Pocketful of Sand is like nothing you've read from her.
This book… this book will take your heart, it will twist is, flatten it up, smooth is all nicely and give you fuzzies. Only to rip your heart back out and then change your entire outlook on the story. And leave you gaping like a fish out of water. Yup. Have at it and enjoy.
M. Leighton apparently decided to up her game and give me a ride I won't forget for a while, or at least until the next book comes out.
Emmy and her sweet mother Eden show up at a quaint little town, walking down the beach before getting the keys to their rental, only to stumble upon a man building a sandcastle. Cue Cole Danzer. I will say absolutely nothing about him. I won't even say much more about Eden and Emmy.
Cole and Eden's relationship is hard to grow. They both fight it, though Eden probably a little less than Cole. The emotional arc in the story, their relationship emotional arc is, for lack of a better word, mind-blowing.
A key character in the story is Emmy, who is so mentally mature for a little girl, I felt myself wanting to grab her by the shoulders, shake her up and tell her to stop it. Stop growing up and just be a kid. She's got an important role in the story. She's key for the development of both Eden and Cole's characters.
And then I got to the end of the book where M. Leighton decided to kill us and present us with a surprise.
The book is probably the best I've read so far in 2015, and I'm not even eager to get the next one because I want to keep this ranked this high in my head for as long as I can.
My rating: 
*Thank you Anne Chaconas at Badass Marketing and M. Leighton for an early copy of this book in exchange for my honest review.
New York Times and USA Today bestselling author M. Leighton is a native of Ohio. She relocated to the warmer climates of the South, where she can be near the water all summer and miss the snow all winter. Possessed of an overactive imagination from early in her childhood, Michelle finally found an acceptable outlet for her fantastical visions: literary fiction. Having written over a dozen novels, these days Michelle enjoys letting her mind wander to more romantic settings with sexy Southern guys, much like the one she married and the ones you'll find in her latest books. When her thoughts aren't roaming in that direction, she'll be riding horses, swimming in ponds and experiencing life on a ranch, all without leaving the cozy comfort of her office.
Twitter | Author Goodreads | Website | Facebook