When I heard book 2 was going to be featuring Silas Moore I was less than impressed. I'm not clueless and I'm aware that authors have reason behind characteristics attributed to characters in their books, but Silas was just unnecessarily obnoxious.
Let's see what I thought post reading, shall we?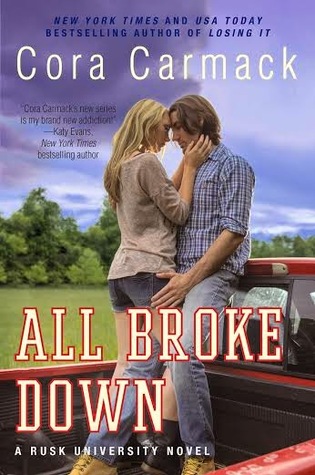 In this second book in New York Times and USA Today bestselling author Cora Carmack s New Adult, Texas-set Rusk University series, which began with All Lined Up, a young woman discovers that you can't only fight for what you believe in… sometimes you have to fight for what you love.
Dylan fights for lost causes. Probably because she used to be one.
Environmental issues, civil rights, corrupt corporations, and politicians you name it, she's probably been involved in a protest. When her latest cause lands her in jail overnight, she meets Silas Moore. He's in for a different kind of fighting. And though he's arrogant and infuriating, she can't help being fascinated with him. Yet another lost cause.
Football and trouble are the only things that have ever come naturally to Silas. And it's trouble that lands him in a cell next to do-gooder Dylan. He's met girls like her before fixers, he calls them, desperate to heal the damage and make him into their ideal boyfriend. But he doesn't think he's broken, and he definitely doesn't need a girlfriend trying to change him. Until, that is, his anger issues and rash decisions threaten the only thing he really cares about: his spot on the Rusk University football team. Dylan might just be the perfect girl to help.
Because Silas Moore needs some fixing after all.
When you take an activist and the stigma ridden bad boy jock and team them up, nothing good can really happen. Only it's just that when Cora Carmack (who is conjuring up hot men with kittens in her spare time, and inspiring me daily to take a minute, sit down and do breathing exercises – thanks for that, Cora) takes said activist and bad boy – sparks fly.
Jumping right into what I thought –
The fact that Dylan's story, thoughts, true character and all around awesomeness is revealed gradually as the story progresses it's just absolutely wonderfully done. Dylan is one strong female character. She's gorgeous (as if Silas will be paired up with anything not par with his own prettiness) and confident, and quite contrary to what her family is expecting of her – will do as much as she can, and a little extra, for what she believes in.
Dylan apparently cannot back down from a "project" and it turns out that Silas is a project, or so he declares himself to be when he asks her to help him change.
Silas is on the verge of being kicked off the football team, which means no scholarship, which means off of school, which means all alone and back to where he came from. And that's not a good place. No one really knows about his life before he came to school at Rusk, and he prefers to keep it this way. The one thing he didn't plan on is Dylan, but then she sees right through him and into his potential. She sees all that is good in him. And there you have it – a great story.
I also really love how Carmack creates a great supporting circle of minor characters, and incorporates them into the story. All of Silas's friends, and even his mother and Dylan's family worked fantastically moving the plot along.
Cora Carmack changed my mind and made me fall in love with Silas, or as the promo for this book states – I have the Silas Virus. LOL. That's why I am giving this book the highest rating.
I'm now looking forward to Torres's story (that's next, right?).
My rating: 
Cora Carmack is a twenty-something writer who likes to write about twenty-something characters. She's done a multitude of things in her life– boring jobs (like working retail), Fun jobs (like working in a theatre), stressful jobs (like teaching), and dream jobs (like writing). She enjoys placing her characters in the most awkward situations possible, and then trying to help them get a boyfriend out of it. Awkward people need love, too. Her first book, LOSING IT, was a New York Times and USA Today bestseller.
Website ** Twitter ** Facebook ** Author Goodreads