I haven't read such a fun, well written, original historical romance in a looooong time.
Beauty and the Beast (a favorite tale of mine!) has never been such a riveting action and etiquette journey. I think I'm going to follow Elle Daniels's publishing schedule rather closely. And this is her debut novel, guys.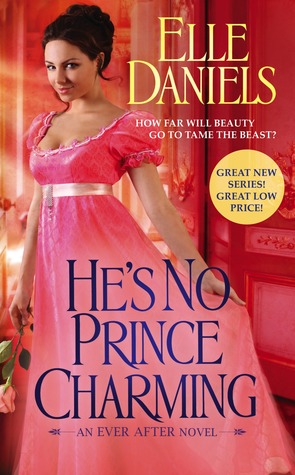 A wounded beast . . .
It took Marcus Bradley forever to find a suitable bride. And then he lost her—all because some meddling matchmaker with a crazy notion about "true love" helped her elope with another man. Now, to save his sister from a terrible marriage alliance, he needs a replacement—an heiress, to be exact . . . and he knows just the woman to help him find one.
A spirited beauty . . .
Danielle Strafford believes everyone deserves a fairytale ending—even the monstrously scarred and notoriously brooding Marquis of Fleetwood. Not that he's left her a choice. If she doesn't help him secure a wife—by any means necessary—he'll reveal her scandalous secrets.
A passion that will consume them both
The more time Marcus spends with Danielle, the less interested he is in any other woman. But the Beast must do the impossible: keep from losing his heart to a Beauty he is destined to lose.
Good historical novels are hard to come by. There are several few authors who are staples in this genre, and normally it's just not worth it to try a new one.
I was so riveted with this story, I read it in one sitting.
Believing in fairy tale type marriage, Danielle believes true love should be what makes up a good marriage arrangement. So when she is introduced to couples set to be separated by marriage arrangements, she helps them elope.
Her latest happy couple's elopement sets the stage to this story. Marcus, our Beast, is witness to his fiancé eloping, and decides to confront Danielle (Danni) demanding she helps him kidnap a new wife.
Both Danni and Marcus find themselves journeying into the woods, looking for the girl they kidnapped. Almost everything that can happen to them – happens.
Elle Daniels weaves a special story. Danni and Marcus's characters are crafted beautifully. I felt like with every page turned I get another glimpse into what each of them is made of.
Marcus's story is genuinely heartbreaking, but also shows how incredibly strong he is. How compassionate and special. But it also shows that desperate people are sometimes driven to stupidity in their actions. Good thing this stupid thing brought Marcus to Danni. And it's a good thing Marcus is totally swoony and fierce.
Danni is a disguised aristocrat who is so fascinated with love, she will do everything in her power to grant it to all who seek it. All because she believes all marriages should be like her parents' was.
What I enjoyed best is the way Danni discovered Marcus. The transformation from fearing him, believing he's a monster to seeing a vulnerable side in him, discovering his gentleness and good heart, his protectiveness and loving nature. I loved that Danni knew how to be with Marcus without making him feel pitied, looked down on.
He's No Prince Charming is a passionate, funny (at times), page turning adventure. Highly recommended.
My rating: 
* Thank you Forever Publishing for the advance copy of this book in exchange for an honest review.
Elle Daniels grew up in a quiet, suburban town in Central Massachusetts – a town so lacking in excitement she was forced to live vicariously through novels. One day, discontent with her reading options, she took the matter into her own hands. So began Elle's journey into all things romantic and fantastical. Still in her early twenties, she remains in that same small town, tagging along with her heroes and heroines on their madcap adventures.