While I'm a big PNR/Fantasy fan, that's usually reserved more to the adult genre. But I tried Becoming Alpha and loved it, and subsequently loved the next book, Avoiding Alpha. So it's no surprise that I absolutely enjoyed and loved Alpha Divided.
I just think about Dastien and instantly I'm swooning.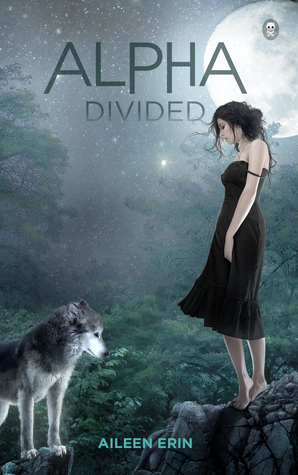 Life has been crazy since Tessa McCaide moved to Texas. She's gone from being a normal-ish girl with visions to a super-powered werewolf. She's fought off vampires and broken a nearly unbreakable curse. And she's got a hot mate, Dastien Laurent, to keep her busy.
Things are looking up until the full moon ceremony rolls around. Before Tessa can strengthen her bond with Dastien, the local coven crashes the gates, demanding that Tessa—their heir apparent—be returned. If the pack wants to avoid a war with the witches, handing Tessa over is the only option.
Tessa doesn't want to cause an all-out fight, but joining a dark-magic coven isn't on her to-do list, especially if embracing her magic side means parting with Dastien. When the coven leader tries to control Tessa with dark-magic, Tessa realizes she has to dismantle the coven or prepare the pack for war. Either choice will change her life—and her world—forever.
Tessa and Dastien are facing their mating ceremony, just days from the next full moon. While mating ceremonies are special, True Mates ceremony is so rare, everyone is eagerly anticipating it.
Remember Lucinda? Well… she's gone reaaaaally bad. We all knew that, but just how bad you will know when you read Alpha Divided. What I can and will say is that the True Mates ceremony doesn't go according to plan. The witches, for all intents and purposes, attack the wolves after crashing the ceremony, demanding they hold it off until after the Tribunal, scheduled to be held a week after.
The Tribunal, where Tessa and Dastien are "charged" – Tessa, for attacking a classmate (who happens to be Dastien's ex girlfriend) – and Dastien, for biting/changing Tessa into a Were. Being True Mates, the Tribunal is accepting Dastien's biting and subsequently changing Tessa as they decide it couldn't have been avoided. However, Tessa is required to appease the coven and undergo some sort of familiarity/learning process on coven grounds, for a few weeks.
Let's just say those weeks are jam-packed with tension, action, sneaking around and basically doing anything Tess can to figure out what Lucinda is after, as it is obviously not Tessa leading the coven. And as you can guess – Tessa definitely finds that out. The hard way.
I can't say that Dastien grew much in this book, as he's (unfortunately for us swooning girls) not a key character in the plot. However his contribution, in the form of romantic phrases in French (which I hate unless it's uttered by him or Tiffany Reisz's Kingsley) and overprotectiveness of Tessa, was enough for me to just say again how amazing he is. The parts where their bond was severed just hurt my heart, especially when later on you learn just how badly it affected him.
Tess, though, I feel is growing with every book. She arrived in Texas timid, can't make physical contact with anyone, shy and friendless. She is now surrounded with friends that love her, mated, confident and independent and grows more so with every twist and turn in the plot. She's pretty badass, I must say.
I love that Claudia gets her own book next. The poor girl needs some TLC and become a badass in her own right, particularly after learning her past in this book. I think I'd like her to take a key role in leading the coven eventually. We all know Tessa can't do both jobs herself. But I'm getting ahead of myself. Right now I'm just psyched that we're getting at least two more books in this series.
Aileen Erin – you rock, girl!!
My rating: 
Aileen Erin is a lover of all things nerdy—from Star Wars (prequels don't count) to Star Trek (TNG FTW), she reads Quenya and someSindarin, and has a severe fascination with the supernatural. Aileen has a BS in Radio-TV-Film from the University of Texas at Austin, and an MFA in Writing Popular Fiction from Seton Hill University. She lives with her husband in Los Angeles, and spends her days doing her favorite things: reading books, creating worlds, and kicking ass.