I'm not sure what made me click on the NetGalley request button for this title, but I'm glad I did.
Here's to another swoony boy. And almost out of his teen years. Those are the best. LOL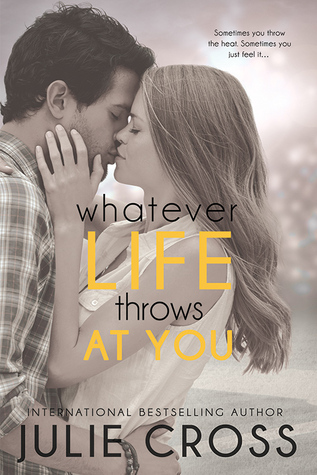 Life loves a good curveball…
Seventeen-year-old Annie Lucas's life is completely upended the moment her dad returns to the major leagues as the new pitching coach for the Kansas City Royals. Now she's living in Missouri (too cold), attending an all-girls school (no boys), and navigating the strange world of professional sports. But Annie has dreams of her own—most of which involve placing first at every track meet…and one starring the Royals' super-hot rookie pitcher.
But nineteen-year-old Jason Brody is completely, utterly, and totally off-limits. Besides, her dad would kill them both several times over. Not to mention Brody has something of a past, and his fan club is filled with C-cupped models, not smart-mouthed high school "brats" who can run the pants off every player on the team. Annie has enough on her plate without taking their friendship to the next level. The last thing she should be doing is falling in love.
But baseball isn't just a game. It's life. And sometimes, it can break your heart…
I don't like baseball. I really, really, really don't like it. I'm sure part of it is me not totally understanding the game, but it just seems so darn boring. Anyhow, that's one thing I didn't like about the book. That, and the fact that it started like about… a million other YA books I've read.
But that's where things change. Annie Lucas is one heck of a great heroine. She's feisty, she's mature, she's pretty badass and she manages to be all that and adorably loving and sweet. Annie is raising her Alzheimer ridden maternal grandmother and her father. Her dad used to be a rising star baseball player for the Yankees, and made a tough choice that saved his life, but not his leg. He is offered a position for the Kansas City professional MLB team and Annie's life take a turn for the better.
The story is a fantastic mix of familial struggle, dealing with a wayward mother and her father not dealing with her wayward mother.
Enters Jason Brody. A 19 year old pitcher extraordinaire, scouted by the team's manager, who's also brought Annie's dad to KC to be his coach.
Brody is gorgeous, sweet, determined and seriously lacking of social confidence and family love. He's also got a past that won't shame some serious gang members.
Annie and Brody's first meeting is the best I've read in a while. It's so funny and flowing, and a total bullshit situation, I couldn't not love them both incredibly from that moment in the story.
Yes, some curveballs are thrown the couple's way, but do they handle them like idiots? NO! They handle them like teenagers, but teenagers with half a brain, and that makes the entire book vastly better, no… awkward, stumbling, but mature and somewhat responsible teens. Coherent and realistic teens.
Both Annie's and Jason's character arcs are just beautiful and profound. Even Annie's dad's changing in this book. They all grow throughout the story and in a perfect way. It's real, it's paced, it's touching. The book has it all – a beautiful balance of emotions, swoons, first love sexual tension and an original plot weaved into a basic YA formula.
My rating: 
*Thank you Entangled: Teen via NetGalley for this copy in exchange for an honest review. It was faaaaantastic.
I'm the author of the YA sci-fi trilogy, the Tempest series (St. Martin's Press). I'm also the author of the YA contemporary novel, Letters To Nowhere.
But even more importantly than the above, I'm a fan of books and an avid reader/reviewer. Keep in mind, however, that a review is just one person's opinion, one perspective. My goal is to show as much bias in my reviews as possible because this makes it easier for you to decide if your perspective is similar to mine or different. Everyone's tastes are different. I like books with emotion and believability. I don't mind edgy and heavy themes. I also like humor and quirk. I like weird characters in odd situations.
I have low tolerance for insta-love, flowery sex scenes, or mushy declarations of feelings. Not a fan of possessive/controlling male characters who get the girl in the end. When I recommend books, I always ask about favorite current reads and cater to each person's taste.
I believe every book plays an important role whether I love it or hate, it's having an effect on society. It's changing, shaping, and molding the future of publishing. Regardless of my feelings about a book, I value the author's time and effort put into creating their work. I only rate books available for purchase (or soon-to-be available) and consider those books as published works and their creators as professionals in their field therefore I treat them as professionals, giving my honest opinion on the work itself and not the person producing it.