I really do love Charlie Hanson. He's the perfect combination between adorable, nerdy and swoony.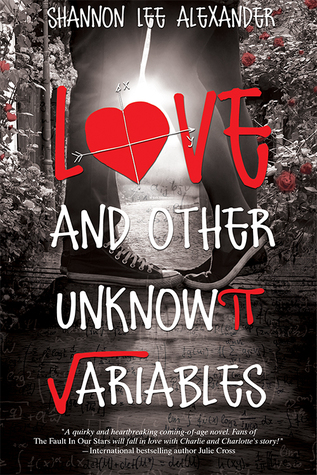 Charlie Hanson has a clear vision of his future. A senior at Brighton School of Mathematics and Science, he knows he'll graduate, go to MIT, and inevitably discover solutions to the universe's greatest unanswered questions. He's that smart. But Charlie's future blurs the moment he reaches out to touch the tattoo on a beautiful girl's neck.
The future has never seemed very kind to Charlotte Finch, so she's counting on the present. She's not impressed by the strange boy at the donut shop—until she learns he's a student at Brighton where her sister has just taken a job as the English teacher. With her encouragement, Charlie orchestrates the most effective prank campaign in Brighton history. But, in doing so, he puts his own future in jeopardy.
By the time he learns she's ill—and that the pranks were a way to distract Ms. Finch from Charlotte's illness—Charlotte's gravitational pull is too great to overcome. Soon he must choose between the familiar formulas he's always relied on or the girl he's falling for (at far more than 32 feet per second squared).
I'll be honest, I had no idea what to expect from this title. I saw such high praises for it from my blogger friends and decided to request it myself.
Charlie Hanson is a math nerd. He goes to a special school where he and his friends focus their academics on sciences and math. He loves it. Everything in his life is calculated, one way or the other. At the same time, he's cool, albeit very innocent. Or should I say naïve.
When Charlie meets Charlotte at a coffee house he has no idea how thoroughly his life is about to change. And most would say for the better. After a quite unique meetup, Charlie is left confused and stimulated. He doesn't know what to make of Charlotte.
Charlie's new English teacher is faced with a class of rebels, the antithesis to their school loving kids status, his class decides she needs to be chased out of town. The only thing is that his new teacher looks very familiar.
Then, he next sees Charlotte in his house. And that's when the story truly begins.
Charlie and Charlotte's story is magical. It truly is, and life changing – mostly for Charlie. He's falling in love for the first time, he's learning and experiencing things for the first time, or relearning them from a different perspective. And that's what I loved most about the story.
Another life Charlotte is changing is Charlie's sister's. She's closed off, somewhat of an outcast, Charlotte is her only friend, pulling her out of her socially awkward status.
I can say it's exceptionally well written, very smooth and flowing. It hits all the perfect teen angst spots I had when I was a teen, and some that I never had. And thank God for that.
Another thing I LOVED were the wonderfully nerdy scientific facts. My inner nerd was gleefully swooning every time Charlie spewed those lines.
There was still something missing for me in this story, and I'm not sure I can pinpoint what that is. I know some (if not most) of you would think it's the ending, but no, I thought the ending was perfect.
I'd love to read more of Shannon Lee Alexander's work.
My rating: 
* Thank you Entangled: Teen via NetGalley for the advance copy of this title in exchange for an honest review.