Hmmm… What do I say about this book? To be honest, it's an excellent story, but in my opinion it should have been written totally differently.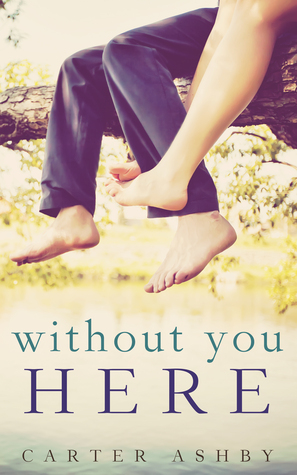 After fighting with her boyfriend, Ettie's only goal is to drown her sorrows in some Jack Daniels. But when she walks into a country tavern, her attention is immediately redirected to the sexy, older man at the bar. He looks lonely, and sad, and absolutely mouth-watering. Ettie can't wait to put a smile on his face.
For the first time in two years, Wyatt finds himself jolted out of his grief—and by a spunky, vivacious young woman who somehow sees right into his soul. What follows is a passionate weekend full of more life, laughter, and pure joy than he experienced in twenty years of marriage.
Wyatt thought one weekend was all he had to give, yet in the days that follow, he can't help dreaming up a future with Ettie. And then a chance meeting shatters his hopes, leaving him more lost than ever. Now Ettie must decide whether to walk away, or to fight for the love she knows they both deserve.
Without You Here is the sexy, heartwarming story of overcoming grief, embracing love, and learning to live in the moment.
This story is about a 22 year old woman, a college graduate to be, who's picking up an older gentleman at a bar right after dumping her boyfriend of two years.
The girl, Ettie, is bubbly, fun, spirited. She's excited about new things, as simple and common as they seem, and she's a breath of fresh air to Wyatt.
Losing a wife of over 20 years so young is hard. It's taken a toll on Wyatt to the point of depression. When their weekend together is over and Ettie is heading back to school, she also finds herself several days later in a surprising situation.
I'm not going to say more, except the plot thickens….
I really liked the idea of the story, I loved Ettie, and The supporting characters. That's where my problem begins. Enjoying the heroine and the supporting characters is great, but when the other MC's voice feels forced and not quite believable, that's where I'm tilting my head sideways while reading.
Then there's the first thing that I felt that bugged me when I started reading – The changing POVs. You can't just write first person alternating voices and switch to 3rd person alternating POVs. Stick to one view, and don't alternate more than 2 characters. The writing could have been smoother, more elaborate and descriptive; in emotions, scenery, atmosphere.
So while the pacing was good, and the story interesting, the writing and the alternating POVs bothered me too much to feel comfortable giving this a higher rating. (Which it could've definitely get after some serious proofing)
My rating: 
* Thank you CreateSpace and NetGalley for providing this advance copy in exchange for an honest review.