Mmmm…. this Vrekner is yummy.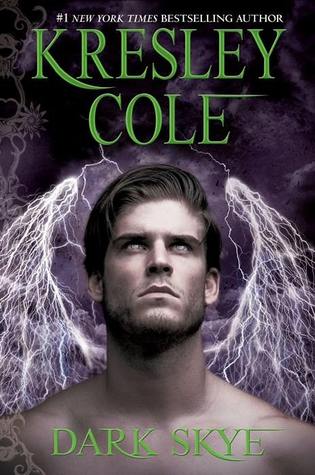 In this highly anticipated fifteenth novel in the Immortals After Dark series, #1 New York Times bestselling author Kresley Cole spins a sultry tale of a mighty warrior scarred inside and out and the beguiling sorceress with the power to heal him—or vanquish him forever.
Eternal Obsession
As a boy, Thronos, prince of Skye Hall, loved Lanthe, a mischievous Sorceri girl who made him question everything about his Vrekener clan. But when the two got caught in the middle of their families' war, tragedy struck, leaving Thronos and Lanthe bitter enemies. Though centuries have passed, nothing can cool his seething need for the beautiful enchantress who scarred his body—and left an even deeper impression on his soul.
Endless Yearning
Lanthe, a once-formidable sorceress struggling to reclaim her gifts, searches for love and acceptance with all the wrong immortal suitors. But she's never forgotten Thronos, the magnificent silver-eyed boy who protected her until she was ripped from the shelter of his arms. One harrowing night changed everything between them. Now he's a notorious warlord with a blood vendetta against Lanthe, hunting her relentlessly.
Can the heat of desire burn brighter than vengeance?
With their families locked in conflict and battles raging all around them, will Thronos and Lanthe succumb to the brutal chaos that threatens everything they cherish? Or will the fragile bond they formed so long ago spark a passion strong enough to withstand even the darkest doubts?
We finally get Melanthe's story. If you recall, she and her sister Sabine were prisoners of their brother who poisoned them making sure they will never leave his side by keeping up the poison supply.
Anyhoo, Lanthe, a sorceri, has been a floozy for the better part of the last 500 years, all the while escaping repeated attacks from Vrekners (demon angels aiming to do good). Sounds fishy, right? RIGHT!
Lanthe had a best friend when she was a teen, only to be betrayed by him and as a result – lost her parents. Her sister being all she had left, the two never parted for more than a few days and loved each other fiercely.
Escaping the island she was imprisoned in, along with more immortals being experimented on, she's taken by a Vrekner. Thronos. YUM.
Lanthe and Thronos's story is different. Being his mate, Thronos is determined to have Lanthe, only she wants to have nothing to do with him. The only chance he has in winning her over is believing her above others in his life, and accepting her as she is.
Lanthe, on her part, can't seem to trust him (with good reason, too), but beginning to see not all she had thought until now is true, she opens herself up to the possibility of him. Only she won't be with him just because she's his mate.
These two go through hell together, a few stages of it, too. They lose each other and find their way back to one another, and while the pace of the plot was a little off at time, I enjoyed it quite a bit. Cole is a great storyteller, fantastic writer and her imagination knows no bounds.
The entire series is highly recommended. I can't wait for the next installment.
My rating: