I was sold on Jill Shalvis from the very first page of Animal Magnetism. Lucky Harbor is going to be the same, I know it. I just need to find the time to tackle it.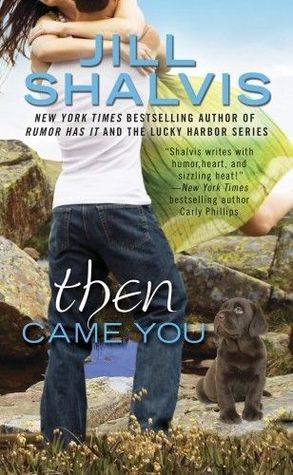 From the New York Times bestselling author of Rumor Has Itand the Lucky Harbor series comes the story of a woman whose world is turned upside down by one night's torrid fling…
Veterinary intern Emily can't believe she wound up in the small town of Sunshine, Idaho, instead of the Los Angeles clinic she had always imagined. Now she has to put her plans to move to L.A. on hold for a whole year while she fulfills the obligation of her vet school scholarship.
Then Wyatt, her gorgeous one-night stand from a Reno vet conference, introduces himself as her new boss. And Emily is just as drawn to his seductive looks and quiet strength as she was on that very steamy night. She soon learns that Wyatt isn't just a laid-back doctor, but a delicious alpha male tempting her away from her carefully laid-out plans…
Then Came You introduces us to Emily, an intern vet at the clinic in Sunshine, Idaho. See, Emily has had her life planned for her; internship in LA, working at a clinic in Beverly Hills, making buckets of money and supporting her father. Sounds fascinating, right? <– can you tell this was written with sarcasm dripped alllllll over it? Good.
However, life throws curve balls at you any chance it gets, and Emily is hit with hers when she's assigned to Sunshine for her internship. Upon arrival her curve ball gets a name. Wyatt. Her one night, one night stand a few months prior. And yes, the second hit follows right after when she discovers Wyatt is her new boss. Emily is almost socially awkward, but not really, and her fights with herself about her attraction to Wyatt killed me. The book is just filled with good, sexually tensed humor. I loved it.
Looking at months of shadowing him, Emily is determined to resist the temptation and attraction, and Wyatt on his part – isn't looking for anything permanent having been hurt by his previous relationship. Works for everyone? Nope. Because as expected they get attached. But everything that happens in between them is for all intents and purposes – combustible. Wowza.
"Was I loud?"
Wyatt leaned over her and kissed her worried mouth. "I don't know."
"How could you not know, you were right here."
He grinned. "Well, the first time, your legs were around my ears so I couldn't hear."
As for the plot – the book is all romance, but it's also slightly more complex in terms of subplots. Emily's sister, recovering from a breakup, has moved with her to Sunshine and she's quite loving it; the peace and quiet, the friendliness and basically everything about it, mostly its remoteness from her life's chaos. Her sister is quite fantastic and I'm sure you'll all love her.
Another subplot involves Emily's neighbor, and here I won't say another word except for this; if you have a gut feeling about a person (or a character in this case) – there's a reason for it.
So we know how things go when it comes to romance novels – we'll get our happily ever after. But the journey is everything, and this one was all swoons and a hot vet. Really, you can't get much better than that.
In short, the best made plans are meant to crumble and change. It's when a hot vet is involved that fun is happening in the midst of the crumble.
Then Came You releases July 1st. Get it (and the four that precedes it if you haven't) – you won't regret it.
My rating: 
New York Times bestselling authorJillShalvis lives in a small town in the Sierras with her family and far too many assorted quirky characters. Any resemblance to the quirky characters in her books is, um, mostly coincidental.Look for Jill's latest, ONCE IN A LIFETIME, on shelves andereaders now, and get all her bestselling, award-winning books wherever romances are sold. Also, visit her website for a complete book list and daily blog detailing her city-girl-living-in-the-mountains adventures.Connect with Jill on Facebook: 
http://facebook.com/JillShalvis