"Naked," Stella says, reading over my shoulder. "Tell him you'll wait for him naked."
"I'm going to have to lock my phone, aren't I?"
"Jesus, you don't lock your phone? What century are you living in?"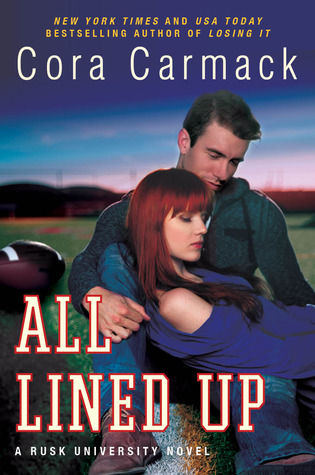 New York Times and USA Today bestselling author Cora Carmack follows up her trio of hits—Losing It, Faking It, and Finding It—with this thrilling first novel in an explosive series bursting with the Texas flavor, edge, and steamy romance of Friday Night Lights.

In Texas, two things are cherished above all else—football and gossip. My life has always been ruled by both.

Dallas Cole loathes football. That's what happens when you spend your whole childhood coming in second to a sport. College is her time to step out of the bleachers, and put the playing field (and the players) in her past.

But life doesn't always go as planned. As if going to the same college as her football star ex wasn't bad enough, her father, a Texas high school coaching phenom, has decided to make the jump to college ball… as the new head coach at Rusk University. Dallas finds herself in the shadows of her father and football all over again.

Carson McClain is determined to go from second-string quarterback to the starting line-up. He needs the scholarship and the future that football provides. But when a beautiful redhead literally falls into his life, his focus is more than tested. It's obliterated.

Dallas doesn't know Carson is on the team. Carson doesn't know that Dallas is his new coach's daughter.

And neither of them know how to walk away from the attraction they feel.
I love Carmack's Losing It series, and when All Lined Up's arc became available I jumped at the chance to read it.
Dallas and Stella (her bestie) attend a frat party where Dallas is almost molested as part of a bet. When she escapes her "suitor" she finds herself like Juliet on a balcony, letting out a scream that is heard by a boy outside. The boy is more amused than anything, and when Stella finds her best friend later on in the midst of a make-out session with that boy, Dallas snaps out of the bizarre and intense state she's in.
I loved that beginning for the book.
Dallas grew up around football. With a coach for a father, she breathed it all her life, whether she liked it or not. And the last few years – it's been not.
Her life's dream is to dance, but her father is against her chosen profession and against her living far away. He wants her close. And with her old boyfriend, (and his QB), Levi, who he's barely noticed isn't her boyfriend anymore.
Dallas has also decided to not date a football player again. Especially not one that is playing for her father.
And then she visits her father on the field after practice only to realize a new player on the team is none other than Carson. The boy from the party.
Carson is fantastic. His character is so determined and solid. He is so sweet, and honest, and honorable, and he falls for Dallas so hard and in the best way – he's earned his place of honor on my "book boyfriend" shelf.
The story isn't very surprising. It's even somewhat predictable, but what I loved about it are the little surprises in the way things turn out, the characters reactions to some situations. I especially loooooved Dallas' reaction and behavior after being told Carson was only interested in her as part of that same bet she overheard of at that same infamous party.
These are the things that make a story that's been written a million times before memorable.
One character that I want to see bite the love bullet is Silas. I have a feeling this man-whore frat slut will be knocked down so many notches. It'll be a treat to read. (was I too harsh with the frat slut?) In all honesty, he kind of redeemed himself in this story, and you should read if you want to know the why, when, what and how.
Both Carson and Dallas have an interesting story arc. They grow into themselves and what they want to become. While Carson learns to trust himself and what he is capable, Dallas' lesson is to look at her life from more than her own perspective and take under consideration her father's concerns. She realizes that while her dad's love for football is endless, she is and always be number one, and reading through her learning that was very sweet.
As with Losing It, Carmack's writing is always contemporary fresh.
"I'm Coach Oscar. Most everyone calls me Oz."
I shake it, feeling strangely… adult.
"Dallas," I reply. "Like the Cowboys. Unfortunately."
The story is dynamic, flowing, real and funny. The author somehow manages to write emotions so beautifully into her stories, they carry through straight to the heart. (and at times, my tear ducts)
I'm eagerly awaiting the next title in the Rusk University series.
My rating: 
* My thanks to William Morrow Paperbacks and Edelweiss for the advanced copy of this book in exchange for my honest review. 
** any quotes are subject to changes and edits in published book **
Cora Carmack is a twenty-something writer who likes to write about twenty-something characters. She's done a multitude of things in her life– boring jobs (like working retail), Fun jobs (like working in a theatre), stressful jobs (like teaching), and dream jobs (like writing). She enjoys placing her characters in the most awkward situations possible, and then trying to help them get a boyfriend out of it. Awkward people need love, too. Her first book, LOSING IT, is a New York Times and USA Today bestseller.