Finally!! A more than decent Sheikh story. Heck, forget above decent. I thoroughly enjoyed it. Ok, let's flail in an orderly fashion.
Sheikh Sayed of Zeena Sarha and his harem of beautiful women are staying at the exclusive, opulent Chatsfield Hotel, London, for the last stop on his worldwide tour before his wedding. But when his engagement is unceremoniously broken, Sayed sets his sights on his sexy chambermaid!
Liyah Amari only took the position as chambermaid to find the truth about her birth father. But her search ends in heartache, leaving Liyah vulnerable to this powerful sheikh's desires. Now their one night of passion could result in a scandalous consequence for the proud Sheikh!
Welcome to The Chatsfield, London!
The rather modern customs and the language were great. There's a thing with Arabs speaking English. It's very proper, especially if we're talking educated people. Most definitely royals. That was very well executed. The use of the words Melech and Melecha was surprising, but I loved them. Originally Hebrew words, they are used in Arabic for "ruler".
I loved this story. I think Monroe captured the Arab culture beautifully. Sayed and Liyah were great personifications for the western woman and eastern man. There was sexual tension between the two of them from the very first moment they met and I loved how Monroe tiptoed around the forbidden acts and Liyah's circumstances.
Sayed is fantastic. I liked that he had the typical macho reactions to some things, that he was vulnerable and idiotic as most men are. I loved that Liyah did what she had to do in order to watch her heart, but didn't back down from his challenges. And I kind of liked Sayed's bodyguard. Lol
There are several issued dealt with in this story; one main one that is not culturally related, but more a familial situation that I felt was a little frustrating, but pretty real, all things considered.
I wouldn't have minded this story to be a little more developed depth wise, a little more weight for the characters that would somehow enhance their arc and give the swoons in the story (there are a few nice ones!) more of a "whoa" factor.
Bottom line: I think if Lucy Monroe decided to write another Sheikh romance, I wouldn't hesitate reading it.
My rating: 
Sheikh's Scandal is out April 15th

* My thanks to Harlequin via NetGalley for the advanced copy of this book.

Award winning author Lucy Monroe had her first book published in September 2003. Since then she has sold more than 50 books to four publishers and hit national bestsellers lists in the US and England. She writes sexy category romance for Harlequin Presents including her own ongoing mini-series, The Royal Brides. If you prefer a longer book, but want to keep it steamy, try her Mercenary trilogy or Goddard Project series from Kensington Brava. If you're a historical fan, Lucy's written a sensual trilogy for Berkley as well as her Children of the Moon series, sexy shape shifters in Medieval Scotland. She's also published a historical single title with Samhain as well as two Inspirational romances under the pseudonym LC Monroe. Lucy just plain loves romance! She's a passionate devotee to the genre and keeps a vibrant blog (http://lucymonroeblog.blogspot.com) where she chats with readers, authors and industry professionals – as well as a celebrity guest blogger here and there. Her highly charged, sensual stories touch on the realities of life while giving the reader a fantasy story not easily forgotten. Whatever the type of romance, Lucy's books transport her readers to a special place where the heart rules and love conquers all.
So I just figured out this is part of a series with about a million little novellas preceding this one. Explains a lot.
An Inside Out story, Chris's POV
In a world where my only escape has been my art, Sara has been the light in my darkness. And there is darkness, the kind of inky black that can bleed from my life to hers.
She doesn't see it. She doesn't understand what I've shown her. And my biggest fear is that soon…she will.
I recently discovered Lisa Renee Jones while reading the novella bundle Heating Up the Holidays. I was excited when I saw this title on NetGalley, and there was nothing to indicate (or maybe I've missed it?) that this is part of a series. So, with this in mind, here are my thoughts:
I enjoyed it. Chris and Sara seem to work well together and up until about 45% through it never even occurred to me that I don't have the whole story. Just goes to show it's pretty darn well written. My first clue was when suddenly other characters popped up with history referred to without it being discussed.
So yes, it seems very steamy. There's definitely a story there and it's a good story. I can tell. However, based on just this little bit of the story that I've received… I can't make a complete judgement about the book.
I know I'm definitely going to pick up the series from the beginning at some point. My review, and subsequently my
rating will change.
* I received an advanced copy of this title from NetGalley, courtesy of Gallery books, in exchange for my honest review.
I'm very excited for this title. Haven't read it yet, but the excerpt (below) is teasing as hell and the synopsis is fantastic. Definitely on my reading *soon* list. Yay <3
Amy has a secret: no one's ever held her hand. She doesn't even know how to hug. Everyone thinks she's smart, but straight As are way easier than making friends. Then she meets Dane, a golden-haired surfer whose easy charm and hot touch teach her what she longs to know.
Dane lives for the salty breeze and a sweet wave, because that's all he has. He's been on the streets since he was fourteen. A drifter. Homeless. Then he meets Amy. Smart and accomplished, she's everything he's not. He wants to be the sort of man who deserves her.
Except that means facing down his past—and that past might very well swallow them both.
He smiled with the barest hint of irony. "Guess you have better things to do than build a sand castle."
She hated how his words echoed her thoughts, how they put him down. Didn't he know how much she would give to be like him? Relaxed. Confident. God, she didn't want to be afraid anymore.
"I've got time."
He pointed behind the castle. "There's an enchanted forest right there."
She knelt down. "Here?"
"No, over. A few inches to the left. Don't you see it?"
He was…teasing her. It took her a second to understand just because it had never happened before. Not that she could remember.
She looked down to hide her smile. "I think I've got it now."
He grinned. "Then get building, Cornell."
Her first attempt was more like a molehill with a pointed top. By her second she'd learned to pack the sand more tightly, earning a brief nod from him. After that she worked steadily, forming the little conical pine trees in varying sizes. A vision sketched in her mind, of lush trees and woodland creatures, of fancy and imagination.
Kneeling in her oh-so-practical shoes was impossible, so she took them off. Her skirt hiked up her thighs as she scooted around the forest. Sand squeezed between the mesh of her stockings.
She hoped it would never come out.
When he finished carving arched windows, he stood back and dusted the sand from his palms. She trailed a finger down the last tree—this was how he'd feel, gritty and soft—before standing up to join him.
He was tall. His height shouldn't have been a surprise; she was often the shortest one in the room. But she'd been equal to him on the ground, both of them dirty and eager in the sand. Now he was the tall, handsome stranger, and she the shy girl who hardly spoke.
She'd aced fluid mechanics, for God's sake, so why should this matter? It didn't, it didn't. But her heart double-timed when she asked, "What do you think of the forest?"
With mock solemnity he studied the trees. They lined up neatly in rows like a Christmas tree farm she'd passed once in rural New York.
"It's pretty," he said, repeating her words. Then he smiled, almost shy. "Very pretty. Do you want to grab some dinner?"
Her breath caught. Had he just asked her out? It had sounded like that. Exactly like that. Her heart beat a rapid pace.
Daylight traced tiny lines radiating from his eyes, from the corners of his mouth. A smattering of blond hair covered the tanned skin of his chest, highlighting lean muscles beneath. Even the tips of his eyelashes were bleached, every part of him touched by the sun. A golden boy, a rippling-surface stereotype, while hidden depths lurked beneath. What would it take to dive under? In that moment she wanted to find out. Right then she wanted to drown.
But she'd had a lifetime of treading water, of survival. Only one answer made sense.
"I'm sorry." Her voice sounded hoarse with disuse, as if she hadn't spoken in years instead of seconds. "I'm not going to be here long. In Florida."
She kicked herself. He hadn't asked her to marry him, for God's sake. He'd only wanted a date, and she should be able to do that. If she were more normal, she could have.
Fleeting emotions flickered across his face. Disappointment first, followed by others she couldn't understand. But resignation—that one she recognized like an old friend.
"All right. Take care then." His voice rang with finality. They would part now. She wouldn't see him again, because she didn't know how to be close to another human being. No textbook had ever taught her. No monthly phone call had told her how to feel.
Her face heated.              
"You too," she murmured. "I'll see you around."
But even that presumed too much. A slight shake of his head said no, she wouldn't. His lips curved in a cold shadow of his former smile.
"Bye, Cornell." He crossed the beach, heading for the water.
He walked right past the frothy edge and dived underneath, leaving only ripples in his wake. His head came up once for air, and again, and again, growing smaller, farther away.
She waited for hours. Or seconds, really. She stood with sand caked to her hands and her knees, feeling abraded and raw. Every other time in her life, she'd pretended not to want this. Friends and laughter. Easy camaraderie. Touch. Standing on the cooling sand, her stomach grumbling with hunger, she could no longer pretend.
There's a gorgeous book trailer for the book, too:
And there's a $50 Amazon Gift Card on the line… hit the banner to participate.
Good luck and happy reading!!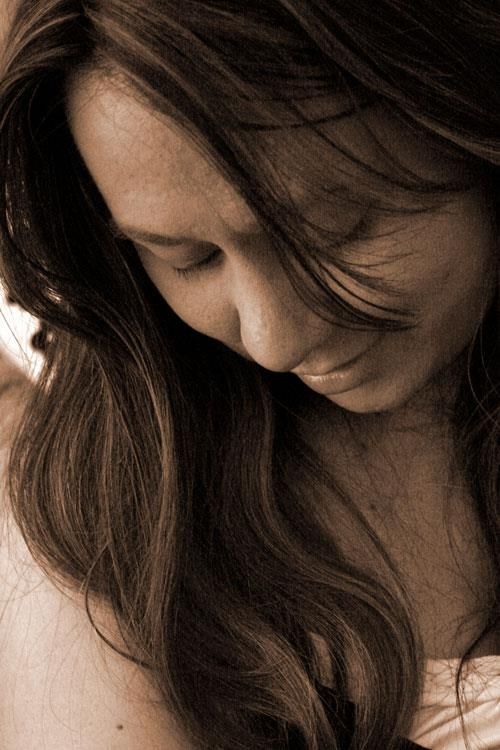 Amber Lin writes edgy romance with damaged hearts, redemptive love, and a steamy ever after. Her debut novel, Giving It Up, received The Romance Review's Top Pick, Night Owl Top Pick, and 5 Blue Ribbons from Romance Junkies. RT Book Reviews gave it 4.5 stars, calling it "truly extraordinary." Since then, she has gone on to write erotic, contemporary, and historical romances. She has been published by Loose Id, Carina Press, and Entangled.