We are thrilled to bring you the Release Day Launch for Jennifer L. Armentrout's STONE COLD TOUCH! STONE COLD TOUCH is the second full-length novel in Jennifer's The Dark Elements Series, a young adult paranormal romance being published by Harlequin Teen!!
Amazon ** Barnes and Noble ** Kobo ** iTunes
STONE COLD TOUCH Synopsis:
Every touch has its price
Layla Shaw is trying to pick up the pieces of her shattered life—no easy task for a seventeen-year-old who's pretty sure things can't get worse. Her impossibly gorgeous best friend, Zayne, is forever off-limits thanks to the mysterious powers of her soul-stealing kiss. The Warden clan that has always protected her is suddenly keeping dangerous secrets. And she can barely think about Roth, the wickedly hot demon prince who understood her in ways no one else could.
But sometimes rock bottom is only the beginning. Because suddenly Layla's powers begin to evolve, and she's offered a tantalizing taste of what has always been forbidden. Then, when she least expects it, Roth returns, bringing news that could change her world forever. She's finally getting what she always wanted, but with hell literally breaking loose and the body count adding up, the price may be higher than Layla is willing to pay…
I'd remained in bed after that, trying to sort through the odd tingling in my chest. There was a slight smile on my lips, because Zayne…well, he'd made my day, but then I'd remember what Roth had said to me the night before and the smile would wash away as if it had never been there.
I probably needed to get used to the whiplash mood swings.
It wasn't until after dinner that I decided to scrub a day's worth of gunk off myself. Gingerly, I peeled the bandage off, happy to find that the cut in my arm was healing as expected. I didn't need to cover it anymore. The arm was still tender, but the Warden blood in me was quickly undoing the damage from the iron.
After changing into fresh pj's, like a total hermit, I padded over to my desk, where I'd left my cell phone. It had been on silent all day and when I tapped the screen, I wasn't surprised to see a slew of texts from Stacey.
Where r u?
R u skipping, u ho?
A minute later: Your locker misses u. Guess u sick with the herp?
Oh my God. I laughed out loud, grinning as I thumbed through her texts. Our bio sub is still hot. U r missing this.
Bio is lonely.
My boobs miss u. How weird is that?
That was notably weird and yet not surprising.
If I get my cell taken from me, it's ur fault.
Holy shit, Layla, where r u?!?
Air punched out of my lungs as I read the next text and the several following them.
U have no idea who just walked into bio!!!
Roth is here!
Holy Canola oil, why aren't u here to witness this?
Ok. He says he had mono. Srlsy? Do people still get mono? And who in the duck was he kissing? A second later—Duck? I didn't mean duck. That's SO not what I meant, autocorrect.
Another text had come in about fifteen minutes after the last one. He asked where u were. I told him u joined a cult. I laughed. He didn't.
Finally, the last text was to call her if I wasn't dead.
"What in the Hell?" I tossed my cell onto the bed, mouth hanging open.
And don't forget! The choice is yours…
Beginning today you'll have 3 weeks to visit the series website, www.thedarkelementsseries.com, to take a poll and decide which guy Layla should ultimately choose in the final book in the trilogy, Every Last Breath.
At the end of 3 weeks, we will tally all the votes, and that's when Jennifer L. Armentrout will start writing Every Last Breath. The guy who gets the most votes is the one Layla will pick.
To prevent early spoilers, we're not going to reveal who won the poll in advance…you'll have to wait until Every Last Breath goes on sale on July 28th, 2015 to find out whether Zayne or Roth wins Layla in the end. We promise the book will be epic and definitely worth the wait!
Who do you want Layla to end up with? Go to www.thedarkelementsseries.com and vote for your choice!

# 1 NEW YORK TIMES and USA TODAY Bestselling author Jennifer lives in Martinsburg, West Virginia. All the rumors you've heard about her state aren't true. When she's not hard at work writing. she spends her time reading, working out, watching really bad zombie movies, pretending to write, and hanging out with her husband and her Jack Russell Loki.
Her dreams of becoming an author started in algebra class, where she spent most of her time writing short stories….which explains her dismal grades in math. Jennifer writes young adult paranormal, science fiction, fantasy, and contemporary romance. She is published with Spencer Hill Press, Entangled Teen and Brazen, Disney/Hyperion and Harlequin Teen. Her book Obsidian has been optioned for a major motion picture and her Covenant Series has been optioned for TV.
She also writes adult and New Adult romance under the name J. Lynn. She is published by Entangled Brazen and HarperCollins.
Series Website | Website | Twitter | Facebook | Jennifer L. Armentrout Goodreads
Coming December 1, 2014
GETTING LUCKY BY BETH BOLDEN
the second book in the Portland Pioneers series
He might have struck out. . .
Noah Fox's life is changing. Ever since he was hit in the head by a pitch, nothing has been the same. Fighting daily headaches and the growing fear that his baseball career is over, Noah goes in search of the woman who once loved and left him.
But he refuses to stop swinging.
What he finds in the tiny town of Sand Point is nothing he could have ever expected. A trained chef and a certified "foodie," Maggie May King has been perfectly content to devote the last three years of her life to running her baby, the Sand Point Café. Noah's never met anyone less awed by his good looks or his celebrity, and even though she's the last person he should be befriending, he finds himself seduced by Maggie's sweetness and her even sweeter orange rolls.


Beth Bolden lives in Portland,Oregon with one cat and one fiance. She wholly believes in Keeping Portland Weird, but wishes she didn't have to make the yearly pilgrimage up to Seattle to watch her Boston Red Sox play baseball. After graduating from university with a degree in English, Beth unsurprisingly had no idea what to do with her life, and spent the next few years working for a medical equipment supplier, a technology company, and an accounting firm. Now Beth runs her own business as a Girl Friday for small business owners, assisting them with administration, bookkeeping and their general sanity. Beth has been writing practically since she learned the alphabet. Unfortunately, her first foray into novel writing, titled Big Bear with Sparkly Earrings, wasn't a bestseller, but hope springs eternal. Her first novel, The Lucky Charm, was published in May 2014 and the sequel, Getting Lucky, will be available December 1, 2014.
Connect with Beth Bolden
While I'm a big PNR/Fantasy fan, that's usually reserved more to the adult genre. But I tried Becoming Alpha and loved it, and subsequently loved the next book, Avoiding Alpha. So it's no surprise that I absolutely enjoyed and loved Alpha Divided.
I just think about Dastien and instantly I'm swooning.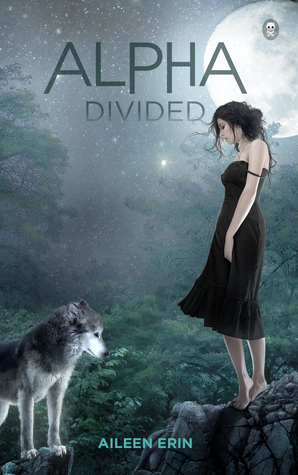 Life has been crazy since Tessa McCaide moved to Texas. She's gone from being a normal-ish girl with visions to a super-powered werewolf. She's fought off vampires and broken a nearly unbreakable curse. And she's got a hot mate, Dastien Laurent, to keep her busy.
Things are looking up until the full moon ceremony rolls around. Before Tessa can strengthen her bond with Dastien, the local coven crashes the gates, demanding that Tessa—their heir apparent—be returned. If the pack wants to avoid a war with the witches, handing Tessa over is the only option.
Tessa doesn't want to cause an all-out fight, but joining a dark-magic coven isn't on her to-do list, especially if embracing her magic side means parting with Dastien. When the coven leader tries to control Tessa with dark-magic, Tessa realizes she has to dismantle the coven or prepare the pack for war. Either choice will change her life—and her world—forever.
Tessa and Dastien are facing their mating ceremony, just days from the next full moon. While mating ceremonies are special, True Mates ceremony is so rare, everyone is eagerly anticipating it.
Remember Lucinda? Well… she's gone reaaaaally bad. We all knew that, but just how bad you will know when you read Alpha Divided. What I can and will say is that the True Mates ceremony doesn't go according to plan. The witches, for all intents and purposes, attack the wolves after crashing the ceremony, demanding they hold it off until after the Tribunal, scheduled to be held a week after.
The Tribunal, where Tessa and Dastien are "charged" – Tessa, for attacking a classmate (who happens to be Dastien's ex girlfriend) – and Dastien, for biting/changing Tessa into a Were. Being True Mates, the Tribunal is accepting Dastien's biting and subsequently changing Tessa as they decide it couldn't have been avoided. However, Tessa is required to appease the coven and undergo some sort of familiarity/learning process on coven grounds, for a few weeks.
Let's just say those weeks are jam-packed with tension, action, sneaking around and basically doing anything Tess can to figure out what Lucinda is after, as it is obviously not Tessa leading the coven. And as you can guess – Tessa definitely finds that out. The hard way.
I can't say that Dastien grew much in this book, as he's (unfortunately for us swooning girls) not a key character in the plot. However his contribution, in the form of romantic phrases in French (which I hate unless it's uttered by him or Tiffany Reisz's Kingsley) and overprotectiveness of Tessa, was enough for me to just say again how amazing he is. The parts where their bond was severed just hurt my heart, especially when later on you learn just how badly it affected him.
Tess, though, I feel is growing with every book. She arrived in Texas timid, can't make physical contact with anyone, shy and friendless. She is now surrounded with friends that love her, mated, confident and independent and grows more so with every twist and turn in the plot. She's pretty badass, I must say.
I love that Claudia gets her own book next. The poor girl needs some TLC and become a badass in her own right, particularly after learning her past in this book. I think I'd like her to take a key role in leading the coven eventually. We all know Tessa can't do both jobs herself. But I'm getting ahead of myself. Right now I'm just psyched that we're getting at least two more books in this series.
Aileen Erin – you rock, girl!!
My rating: 


Aileen Erin is a lover of all things nerdy—from Star Wars (prequels don't count) to Star Trek (TNG FTW), she reads Quenya and someSindarin, and has a severe fascination with the supernatural. Aileen has a BS in Radio-TV-Film from the University of Texas at Austin, and an MFA in Writing Popular Fiction from Seton Hill University. She lives with her husband in Los Angeles, and spends her days doing her favorite things: reading books, creating worlds, and kicking ass.